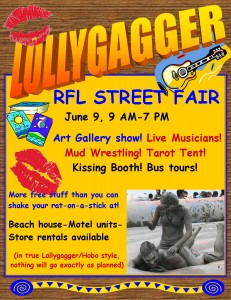 Walking Tall For A Cure is hosting a Street Fair on Lollygagger Lane.
Date and time is Sat. June 9, 9:00 am- 7:00 pm slt. Rain or shine!
Join Us! Â http://maps.secondlife.com/secondlife/Agriopis/6/38/33
Stop by one of the most unusual and creative places on the Mainland. Linger a while at one of the kissing Booths, or jump into the mud wresting pit, have a peek at your future by a real life card reader. If you're looking for something a bit more uptown have a walk around the Lane's art gallery.
Lots of other fun things to be had, all ages welcome. All proceeds going to Relay For Life.
Nonstop live and DJed music throughout the event.
9am- DJ Firery Broome
10am – DJ Tampee Calimero
11am – DJ Vali Rau
12 – DJ Immm Back
1 – Whirli Placebo LIVE
2 – DJ Moro Zane
3- Frets Nirvana LIVE
4- Blane Sonnenkern LIVE
5- Derrick Randall (Glowdog) – LIVE
6- DJ Paramparamm Papp